Cart is Empty
Select Currency:
Booking Information: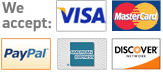 Please note
, for orders of 10 or more of the same item, please
contact us
directly for our attractive volume discount pricing.
This book is a compilation of forty stories from real people who overcame all obstacles to follow their dreams. Each story includes recommendations by the editor: Dr. Samuel Gerstein, on how to translate the individual experiences to your own life.